Return Home
Union Soldiers in Front of R.M. Wade & Co. Salem
R.M. Wade and Company was founded in Salem in 1865. Although it began as a hardware and dry goods store, it soon focused on the sale of agricultural implements, buggies and hardware to farmers. This was a time period of major innovation and change in agricultural tillage and harvesting equipment. R.M. Wade & Co became a leader in bringing this revolutionary new machinery to the Northwest. Branches were established in Corvallis, Independence as well as Salem. In 1885 the company relocated its headquarters to Portland. The distribution territory was expanded to include the entire Northwest, and by 1899 it was the largest farm equipment distributor in the Pacific Northwest.
1870: 18 million farmers feeding 38 million people on 2.6 million farms (53% of labor force)
1865
R.M. Wade & Co. Founded in Salem, Oregon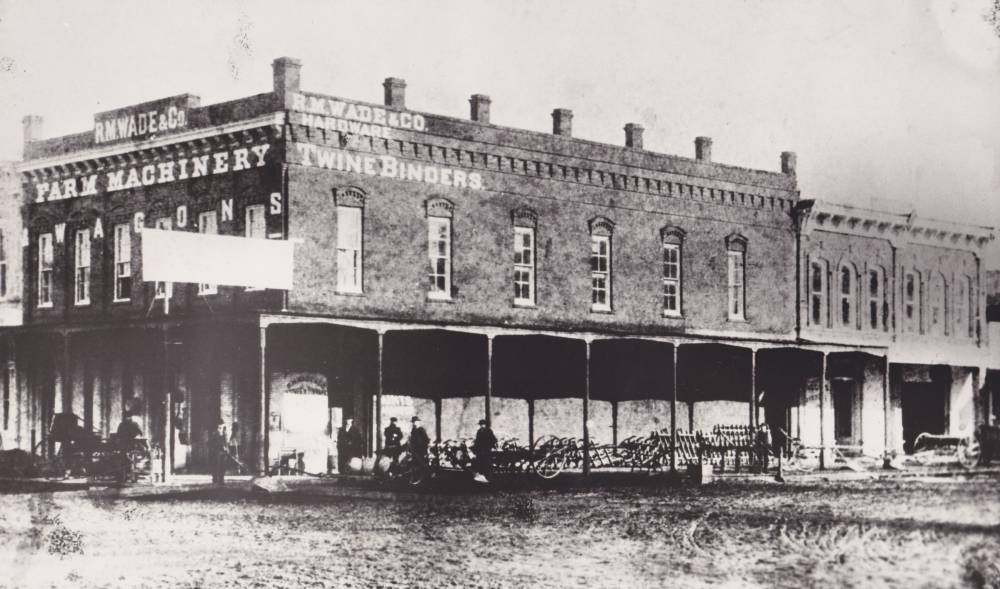 Original R.M. Wade Store in Salem - date unkown
R.M. Wade left The Dalles for Salem, Oregon, where he bought an interest in the company, Smith and Cartwright, subsequently known as Smith and Wade. Then he bought out his partner and changed the name to R.M. Wade and Co. Originally the store sold dry goods, clothing, groceries, hardware, farming supplies, and agricultural implements to farmers in the Salem area.
1867
Copies of Documents 1867-1874
Below is an invoice dated June 1, 1867 from R.M. Wade to the Oregon Stage Company, which was a well known stage line operating between Oregon and San Francisco, California. It is uncertain what was sold as the ink has faded, but this is a scan of the original invoice.
1870
First R.M. Wade Letterhead from Salem, Oregon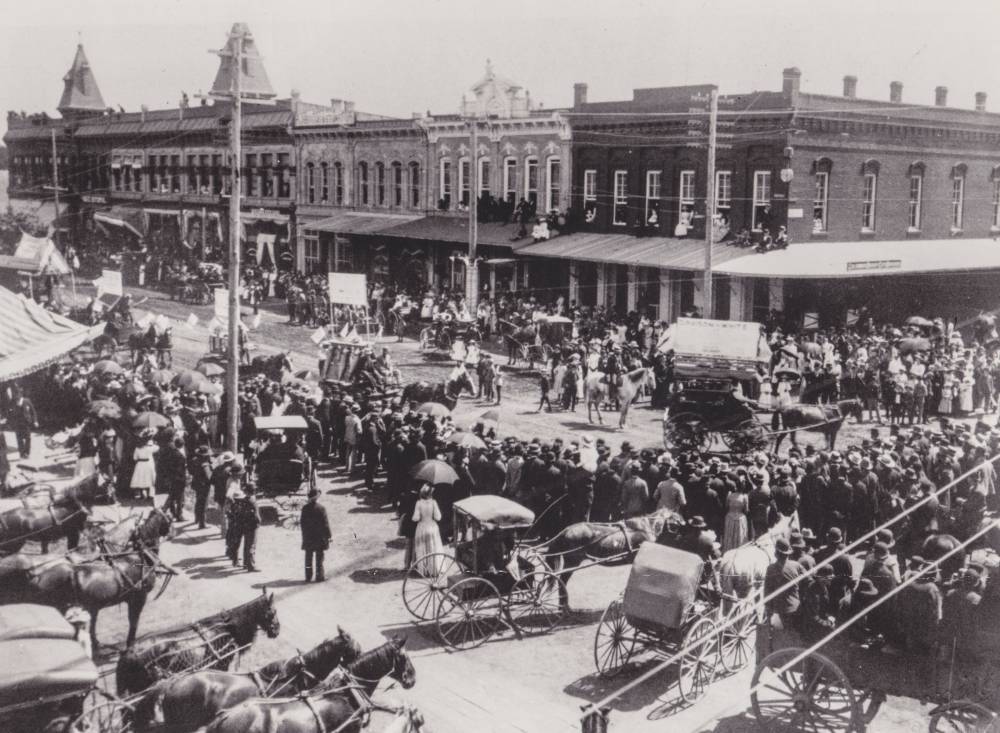 Parade in front of R.M. Wade Building - date unknown
February 22, 1870
Below is a scanned copy of stationery with the first R.M. Wade letterhead from the Salem, Oregon location. In addition there is a purchase order that was issued to Henry Failing of the Corbett and Failing Company. Both Corbett and Failing were prominent Oregon businessmen at the time and co-founders of the First National Bank of Oregon in 1856.
McCormick Reaper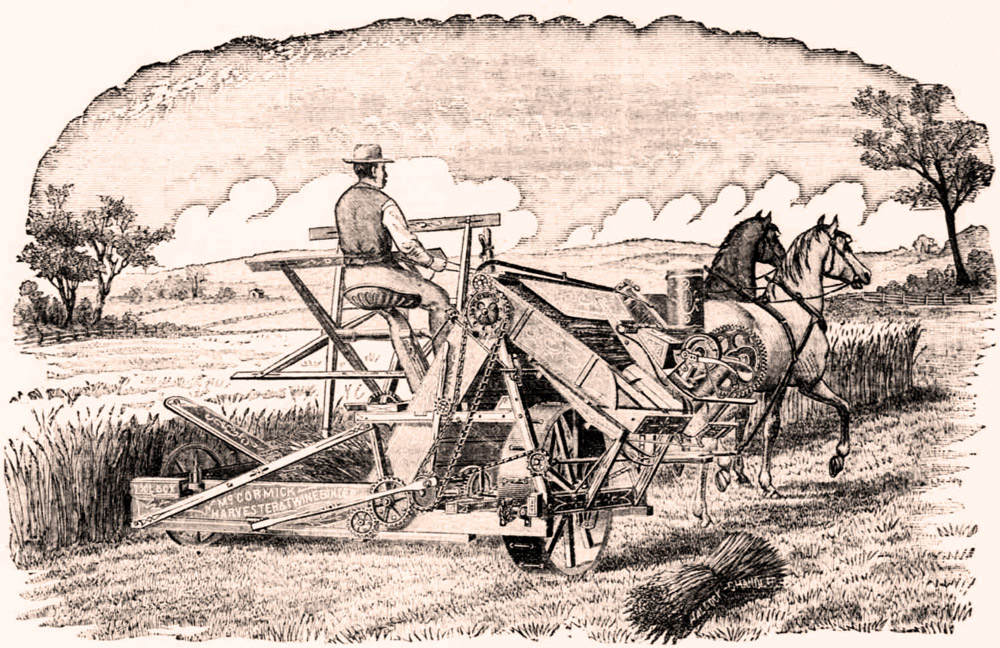 Drawing of McCormick Reaper
The McCormick Reaper, a new wheat harvesting machine, was distributed by R.M.Wade. It was invented in 1837 by Cyrus McCormick and it was an entirely new concept in harvesting grains. For thousands of years farmers had been using the hand scythe to cut and bundle grain during harvest. McCormick invented a machine with a reciprocating cutter bar with knife like teeth, which cut the grain. Then a reel would load the grain on a platform. The R.M.Wade Company began selling the McCormick reaper in the late 19th century and it revolutionized harvesting methods in the Northwest.
1871
Telegram to Henry Failing
September 14, 1871
This is another order to the Henry Failing Company which is for 4 kegs of blasting powder and they seemed to be in a hurry to get it.
Treadmill Thresher
The treadmill thresher was a two horse powered threshing machine, which separated the wheat from the straw in an automated way. This machine replaced hand threshing, which had been the only way to separate wheat from straw for thousands of years.
1872
Modoc Wars
1872-1873
During 1872-73 the wars between the U.S. government and the Modoc Indian Tribe took place in Southern Oregon in the Klamath Falls area. Captain Jack the leader of the Modocs was very successful in fighting against a superior force and the war went on for many years.
Oliver Chilled Plow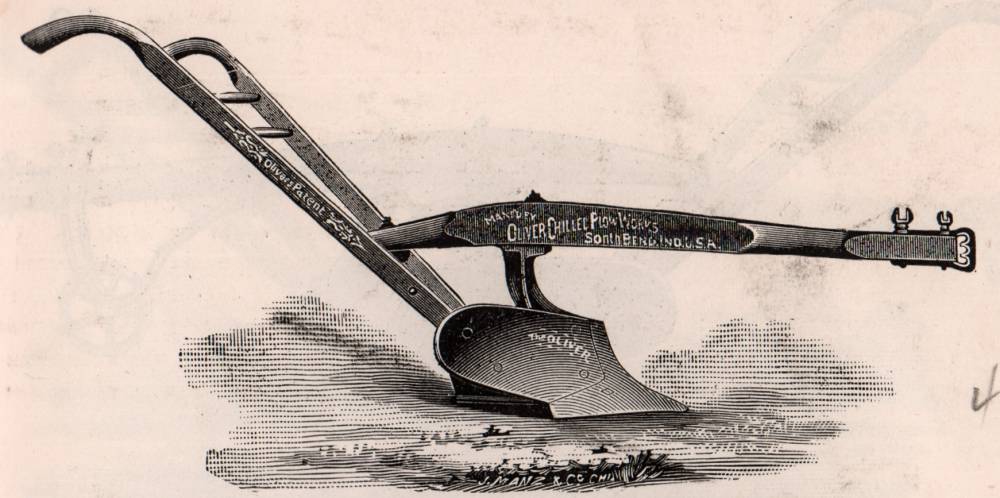 Oliver's No. 10-V Full Chilled Plow from 1917 R.M. Wade Catalog
The R.M. Wade Company distributed the Oliver Chilled Plow from approximately 1875 until 1920. It was invented in 1858 by James Oliver in Elkhart, Indiana. Oliver sold fifty plows his very first year in business. By 1860 he had perfected the product and introduced the famous Number 40. The new plow used a patented manufacturing process of chilling the steel such that the outside cutting edge remained hardened and sharp for easier plowing of the soil. In addition, the face of the plow was softer and smoother, so that the farmer didn't have to stop and clean it as often as earlier plows. By 1878 Oliver was selling 300,000 plows a year, which was an unprecedented number. Unfortunately, he refused to make a plow which could be ridden by the farmer. As a result he lost a lot of the market to the John Deere Company, which manufactured a riding plow. The Oliver Company remained independent and eventually evolved into the Oliver Tractor Company.
1875
R.M. Wade Letterhead
October 4, 1875
This letterhead from 1875 shows pictures of a McCormick Reaper on the left top and probably a Bain Buckboard Wagon on the top right.
1880
Van Brunt Seeder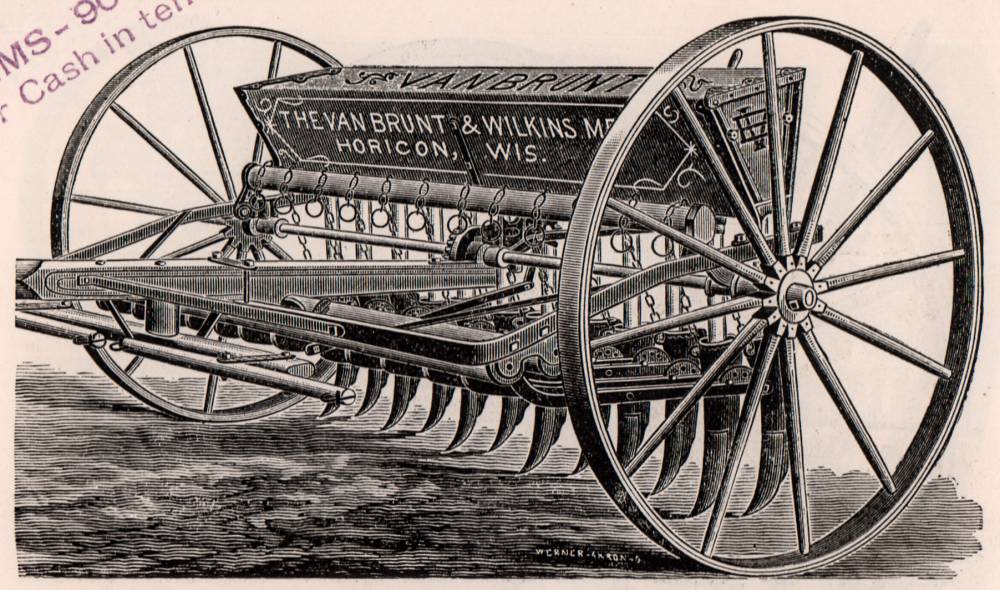 Van Brunt Steel Frame Hoe Drill from 1917 R.M. Wade Catalog
The Van Brunt Seeder was another popular product distributed by the R.M. Wade Company during the last half of the 19th century. Previously all seeding had been done manually. The seed was sown by scattering it over the field by hand, a very labor intensive process. In 1860 George Van Brundt invented a new mechanical seeder which planted seed seven rows at a time. It injected the seed far enough underground that birds couldn't eat the seed, something that had been an enormous problem from the origination of farming. The concepts employed in the Van Brunt seeder are still the basic design of all modern seeding machines. Another back breaking farm job had been made much easier and faster by the innovation of a new product.
Lightning Hay Press

Lightning Hay Press from 1917 R.M. Wade Catalog
The Lightning Hay Press was an early version of the hay baler. It was truly a one-horse-power machine driven by a horse turning a wheel to power the machine. There is very little information about the company that made the Lightning Hay Press, but it was widely used to bale hay.
1884
R.M. Wade Moves to Portland
R.M. Wade moved the business to Portland. He purchased a building on the East Side that occupied a full block on Hawthorne Avenue between 1st and 2nd Street.
1885
R.M. Wade & Co. Incorporated
R.M. Wade - Independence, Oregon
During the 1880's R. M. Wade established branches throughout the Willamette Valley. In addition to the main business in Portland, as well as the original store in Salem, there were branches in Independence, Corvallis, and Jacksonville.
Picture of R.M. Wade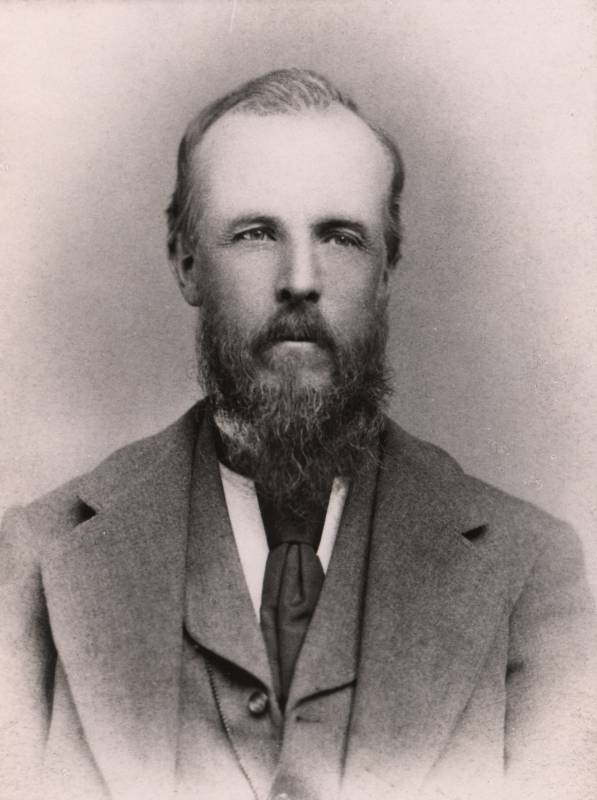 R.M. Wade date unknown